Operation Emerald Dominic McCartan. (Pluto, 1985) ISBN 07 453 0006 5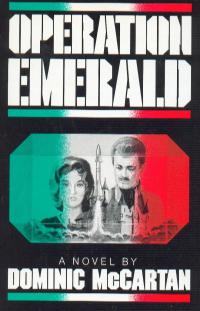 Nick is the author of five unpublished literary novels; his sole published full length fictional work is a political thriller Operation Emerald, in collusion with an Irish relative, under the pseudonym Dominic McCartan. This book was on the shortlist for the Triple First Award, judged by Graham Greene and William Trevor, though the prize was never awarded after a disagreement between the sponsors, The Bodley Head, Penguin Books and The Book Club Association.
'Plotty, thick with conspiracy, deep in character and crowded with diverting cameos. Set around the formation of a Unionist militia, armed from a country estate in the Irish Republic, the story twists and turns ... Dominic McCartan draws the threads of his webbed plot together in a finale that advances not only a story about British imperialism but an argument about its nature which packs a surprise vision of its future. Rarely can a work of fiction have wed a political analysis with an entertaining narrative as successfully as Operation Emerald. It's a jewel. It may turn out to be a crystal ball.' (Venue)
'Among the most satisfying thrillers to emerge in the last year' (Charles Shaar Murray, NME)
'No escapist heroics here ... but a good few home truths.' (Tribune)
Operation Emerald was republished in the US by Dembner Books (ISBN 0 934878 77 3) and is available from Amazon's [amazon.com] out of print service.