War Without Honour, Fred Holroyd with Nick Burbridge (Medium, 1989) ISBN 1 872398 00 6
Nick's interest in Irish politics and his career with McDermott's Two Hours led to a meeting in 1988 with Captain Fred Holroyd, an ex military intelligence officer in Ulster. They collaborated on War Without Honour (Medium) launched at the House of Commons in 1989.
Nick initially secured a commission from Harrap as a sequel to Stalker, but it was abandoned under Government pressure, and subsequently taken up by a small left wing publisher.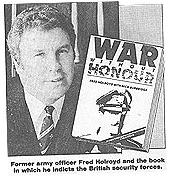 Holroyd's allegations about the methods of British counter terrorism and his close connection with another whistle-blower, Colin Wallace, formed the substance of Ken Livingstone's maiden speech as an MP.
The controversy that the book caused was well-documented in the national press and persistently explored in forums as diverse as the subversive magazine The Lobster and Richard Ingrams' column in The Observer.
On a personal level, Nick was subjected to heavy-handed tactics, including a phone - tap and an intimidating visit by Brighton CID.
'I started as a sceptic but after three and a half hours came to believe that Fred Holroyd and Colin Wallace were telling the truth. The issue concerns the probity of the British Government at the top.' (Tam Dalyell)
'War Without Honour is the latest and most definitive salvo from a former army intelligence captain, Fred Holroyd, in his campaign to publicise events in the province which led to him resigning his commission in 1976.' (John McGhie, Observer)
'A strange silence from the Government as a book goes into print, giving the inside story of security activities and assorted hanky-panky in Northern Ireland. Not a peep from the Treasury Solicitor; the D notice committee obviously didn't (notice, that is). Fred Holroyd, a former military intelligence officer, has written a detailed account of the dirty war in Ireland. Cross-border operations, kidnapping involving loyalists hired for the purpose, the role of the SAS and infighting between the security services. What more can you do to upset a woman?' (Andrew Moncur, Guardian)
'War Without Honour provides one of the most dramatic insights into the seamier side of the Northern Ireland conflict and explains why no military solution will ever be possible.' (Western Morning News)
'This is an astonishing tale, and the tiny Medium Press in Hull deserve every congratulation for facing down the law and publishing it. They will not be prosecuted, the Government cannot afford any publicity for this little book. But it is indispensable to anyone who wants to understand what has been done in Northern Ireland, in our name, by the irresponsible, feuding and, in the worst cases, barmy security services.' (London Review of Books)
Links to "War Without Honour" and Fred Holroyd:
Humiliation in armed conflicts
Parliament
Marxism mailing list
Class war
NameBase.org
Lobster Parapolitics
Group 13
Irish circle of deceit
Eric Krebbers
An Phoblacht / Republican News
ThePost.ie
TheMail Archive
The SAS, their early days in Ireland and the Wilson Plot