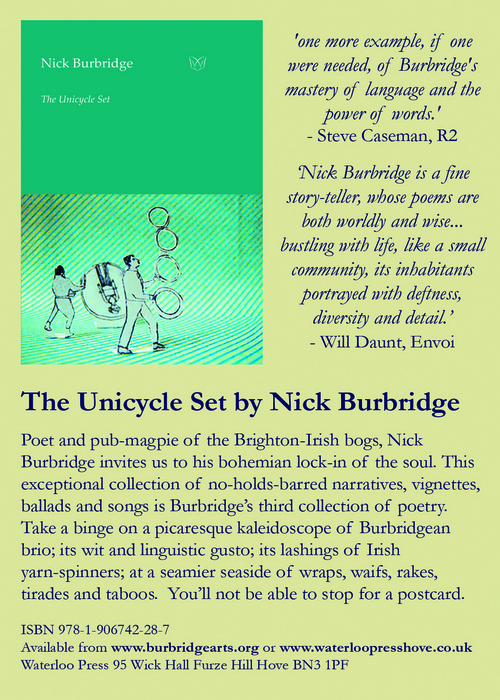 (Image: Pia Bramley)


The blurb for Nick Burbridge's new book proclaims him to be the 'pub-magpie of the Brighton-Irish bogs', and his third collection certainly has the air of pub-stories about it; tales slickly rehearsed through being retold and passed on, in this case, passed on with an animated intimacy which, once you're inside, is both intriguing and inescapable…

(Rachael Allen, Ambit 204)

With imagery as dense as blood clots, Burbridge imbues the cadences of demotic speech with the whisky-breathed lilt of the fiddle or the glass-eyed slur of the needle to hold a mirror to 21st-century British urban life with more incisive results than any number of government working parties could ever hope to attain.

(Oz Hardwick R2 )

Nick Burbridge's poetry is no stranger to Orbis readers and his third collection is full of the wit, verve and character we've come to expect from his work…Burbridge is a versatile artist, and one gets the full spectrum of moods, of light and shades, in this skilful collection.

(Nessa O'Mahony, Orbis)

This substantial new volume from Anglo-Irish poet, playwright, novelist, journalist, short story and song writer Nick Burbridge (when does he sleep?) achieves a remarkable consistency of tone despite its considerable range of subject matter.

(Simon Harker, The Frogmore Papers)

A collection as delightful as it is sometimes disturbing.

(Peter Bennet, Other Poetry)

…highly literate and precisely articulate…an almost Joycean literary grandeur.

(David Kidman, Netrhythms)


The Unicycle Set, Nick Burbridge, Waterloo Press, 84 pp. £10. Official publication - February 2011. Signed copies are now available, using the contact form on this website.