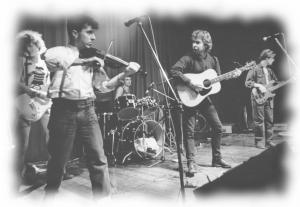 From the earliest days McDermotts were notorious for their live performances.
'They do a political, raggle taggle sort of a thing ... Nick Burbridge kicks and growls, and in the course of his party piece 'The Enemy Within', he passionately cuts from William Blake to Joe Strummer and Lonnie Donegan.' (NME)
'Dressed in shirts, vests and braces, McDermott's Two Hours play rebel music born of bigger troubles than adolescence and rooted in traditions far older than rock 'n' roll, though that has an influence too... Sweat pours from the dancing mass. More than most, McDermott's Two Hours are the genuine discontented and, therefore, the enemy within.' (Sounds)
Listen to The McDermotts Dirty Davey as an audio stream.


[Download as MP3]
(right click- save target as)


The band were destined to remain outside the mainstream music business and despite playing festivals like Glastonbury, Womad and Reading and becoming the biggest live gig in Brighton, they did not give themselves the kind of exposure that their reputation warranted. In their short career they made only one vinyl album The Enemy Within (Hag Records), but this was enough to secure them a permanent place in the history of the genre. It was cited by Sean McGhee of Rock 'n' Reel as one of his three favourite albums of all time.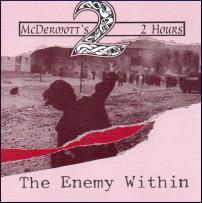 'McDermotts' rebel yell isn't so much vengeful as vibrant: Burbridge's lyrics welded to melodies rockin' and reelin' from Tim O'Leary while the rock band have got their rhythms as solid as granite.' (Folk Roots)
'Brighton based McDermotts as they're affectionately known debut with an album that establishes just what an immensely powerful act they are. Another one of the terrific new acts that fuse punk and folk influences to marvellous affect, they're a mite subtler musically going in high (spirited) rather than hard ... A record that stands as a milestone in the development of new folk and as such is an essential purchase.' (Rock 'n' Reel)
The Enemy Within was re-released on CD in 1994 (HAGCD2) to the same kind of critical acclaim, from The Guardian to Dirty Linen: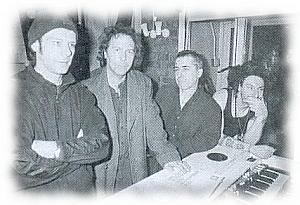 'Every now and then, one of us wanders unwittingly into a genuine diamond, a recording about which there is nothing to be said. A CD that's so good that prose just seems to skitter across its surface like oil on water. The Brighton based quintet McDermott's Two Hours released this LP and promptly split in 1990, so Hag records are to be thanked for releasing that debut LP onto CD, and thus allowing a new audience to experience something very special ... The superb song-writing ability of Nick Burbridge is central to the band's originality. It's his welcome insistence on proper songs that stands confidently at the core of a set crammed with sparkily memorable moments.' (Folk On Tap)
Once Tim O'Leary left to work with the English Shakespeare Company, after a brief period with Ben Paley playing fiddle, the band appeared to dissolve. Not long after, Nick signed a publishing deal with Joe Boyd of Hannibal, (later Ryko, now Carthage Music); and a track called "North And South" appeared on a compilation album, Undefeated (Fuse Records), a benefit recording for striking miners, with artists like Chumbawumba and Billy Bragg.