In 1993, The Levellers [Levellers biog] (hugely successful with a Number 1 UK album to their name), who have always cited McDermotts as one of their formative influences, covered Nick's song Dirty Davey on their eponymous album; it has always been one of their most popular live numbers.
Jeremy Cunningham, bass player with The Levellers, explained the importance of the connection in an interview with Q Magazine:
'I'd always wanted to play in a band with a violin ever since I'd heard a band in Brighton called McDermott's Two Hours, who were a really thrashy folk band. That's who we've been most influenced by really. People always say to us Oh, you must be really influenced by The Pogues and The Waterboys, but in fact it's this band out of Brighton more than anything else.'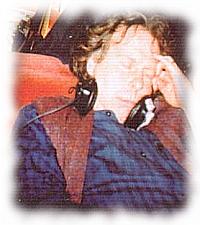 Throughout the nineties, while Nick and Tim's energies were devoted primarily to the theatre, contact was never lost with The Levellers and at the turn of the millennium Nick agreed with Jeremy to collaborate on as many new albums as he could write songs for. These would be produced in line with the constraints of his endogenous depression - which had always been an influence on his life and work, but which had now become a major factor - where he would record the songs live in manageable sessions, and other musicians augment them. Like all McDermotts projects, the aim was for critical, not commercial, success.
World Turned Upside Down (Hag 006) was released in May 2001 as McDermott's Two Hours vs Levellers.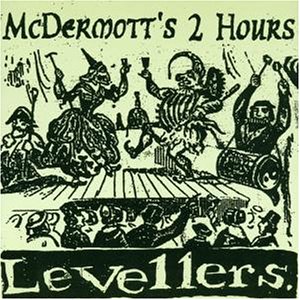 'McDermott's 2 Hours are a Brighton folk-rock duo who spin intriguing yarns of "true travellers", Irish labourers, sailors getting fleeced by whores and ancient European wars. It's not a Levellers album though: drummer Charlie Heather and bassist Jeremy Cunningham merely help out - McDermott's 2 Hours cut the mustard of their own accord. The title track is a crusty anthem, La Pasionaria is the best Spanish Civil War song since The Clash's Spanish Bombs and Laying the Sligo Maid could have graced a Men They Couldn't Hang album.' (Q Magazine)
Listen to World Turned Upside Down as an audio stream.


[Download as MP3]
(right click- save target as)




'The musicians clearly respect the mightiness
of [Burbridge's] lyrics with both their voices
and their instruments. Blue Bandana - a
parable of sailors and whores on the high seas of Havana ... is as good a piece of writing as you'll find anywhere, while La Pasionaria is a dedication to Dolores Ibarruri's valedictory
speech at the standing down of the International Brigade in Barcelona in 1938 ... extracts from which Burbridge has twisted and convoluted cleverly into song.' (fRoots)


Listen to Harry Brewer as an audio stream.

[Download as MP3]
(right click- save target as)



'The Levellers have just made their best album since Levelling the Land. Well, two of them - Jeremy and Charlie - have, backing their oft-cited main inspiration, fellow Brighton free spirits, McDermott's Two Hours.
I think there's a reason for this, too long overlooked by both Levs members and fans. For the first time since that album, the two Levs have been making music outside of the commercial concerns of their future. A much-needed return to what matters to Joe Bloggs.
The bigger reason, of course, is the songs, written by main McDermotts man Nick Burbridge ... a Nick Drake of our times inasmuch as he's a criminally unrecognised artist.' (George Berger, official Levellers biographer)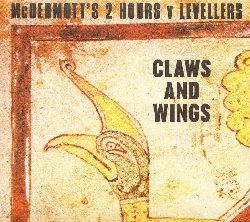 The sequel, Claws and Wings (Hag, 008) was released in April 2003: a more acoustic album with an even greater fusion of styles.
'This very effective collaboration between bits of McDermott's 2 Hours and The Levellers produces a kind of more literate Pogues-like, in-yer-face comment on many of the clear injustices inflicted (usually) by "the powerful" on "the meek". Nick's own comment that "narrative makes a political point better than rant" is very well illustrated by this album ... Some tracks are contemplative, some sad, some energetic but all make up a truly brilliant CD that I know I will play over and over again.' (What's on Folks)


Listen to North and South as an audio stream.

[Download as MP3]
(right click- save target as)

' ... some of the best folk rock with a Celtic twinge that I've heard' (FolkandRoots)
' ... with its amalgamation of Irish folk flavours, and the cosmopolitan influences of all involved it's a thrilling ride.' (Songbook)
'The most moving track on the album for me is "Song of a Brother". It's so cleverly composed that it deceives you on first hearing because you're instantly drawn into its upbeat tempo and fiery fiddle. As soon as the words start to take shape you are completely bowled over by the emotional power of the song. I've never heard anything quite like it before.' (Folking.com)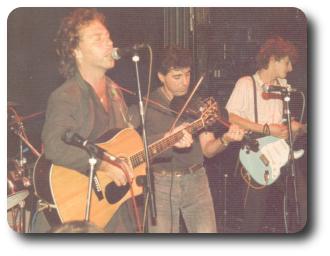 'Claws and Wings is a very impressive record indeed, uniformly strong and well- balanced both musically and lyrically, and it's easily going to turn out to be one of my albums of the year, I'm convinced.' (NetRhythms.co.uk)
The next album of
Nick's songs, Disorder, was released in September 2004. The third collaborative effort with members of The Levellers, the album is a deeply articulate, compelling journey through political and personal

Listen to Tod the Ranter as an audio stream.

[Download as MP3]
(right click- save target as)

disorder, where traditional and contemporary music vigorously embrace. Among deft arrangements for fiddle, whistle, concertina, trumpet, guitars, bass and percussion, an unnervingly passionate voice calls to be heard. The album has earned more emphatic praise from the press, as well as the likes of Maggie Boyle, who covers one song, 'The Old Man's Retreat', in her live set.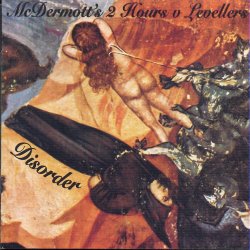 "…Burbridge's cleverest piece yet…a work of thought and guile, no mistake.' (Simon Jones, fRoots)
"Rousing, politically scathing words put to music that you can't help but sit up and take notice of…one of the finest musical collections that I have heard this year." (folking.com)
"I can honestly predict that, just as Claws And Wings was one of my albums of 2003, so will Disorder turn out to be one of the highlights of 2004. Absolutely bloody brilliant!" (netrhythms.co.uk)
These recordings represent the commitment to making music for its own sake that has always been the hallmark of McDermott's Two Hours. While Tim O'Leary has been playing with Scottish folk band North Sea Gas (who, like many other folk acts, have covered a McDermotts' song, "Harry Brewer") and Ben Paley has again come into the fold, the song-writing remains consistent at the core of the band's ethos and performance.
Due to different commitments and incapacities live shows in recent years have been very rare events, but the album Goodbye To The Madhouse was released in 2007, and a further recording is being made.
[4: "Goodbye To The Madhouse"] [Discography and Links]